All SOSC classes and services have moved online through the Fall Term
Due to the circumstances surrounding COVID-19, all faculty and staff in the Department of Social Science will be working remotely and are not available for in-person meetings at Keele Campus. The Department is fully committed to ensuring our students get the support they need by various electronic methods. For more information, please visit our
COVID-19 information page
.
Follow us on Twitter at @YorkU_WKLS
Work and Labour Studies (WKLS) is an interdisciplinary program focused on this rapidly changing world of work and its impact on workers. Placing contemporary developments into historical perspective, Work and Labour Studies critically examines the organization and experience of paid and unpaid labour, labour markets, education and training, labour and employment law, collective bargaining, public policies on work and the economy, occupational health and safety, workplace equity, working class culture and communities, and the labour movement. Given its location in Toronto, Canada's most diverse city, the program pays special attention to the experiences of different groups of workers.
Work and Labour Studies also places particular emphasis on the role that workers, unions, and other social justice movements have played in making workplaces, communities, and political and economic life, in general, more democratic, representative and egalitarian. By critically exploring both historical and contemporary efforts to improve work, Work and Labour Studies hopes to inspire students to intervene in their workplaces and communities, so that everyone can benefit from the world of work.
Study in the program opens students up to multiple opportunities for research and engagement, including experiential forms of learning that allow students to extend and apply knowledge from classroom study in practical ways outside of it in the form of internships, studies abroad, field trips, field research and service-learning projects. The Work and Labour Studies Program prepares students for employment in the labour movement, private industry, community and advocacy groups, public service in Canada and internationally, journalism, public or private administration, social work, law, teaching and many more careers.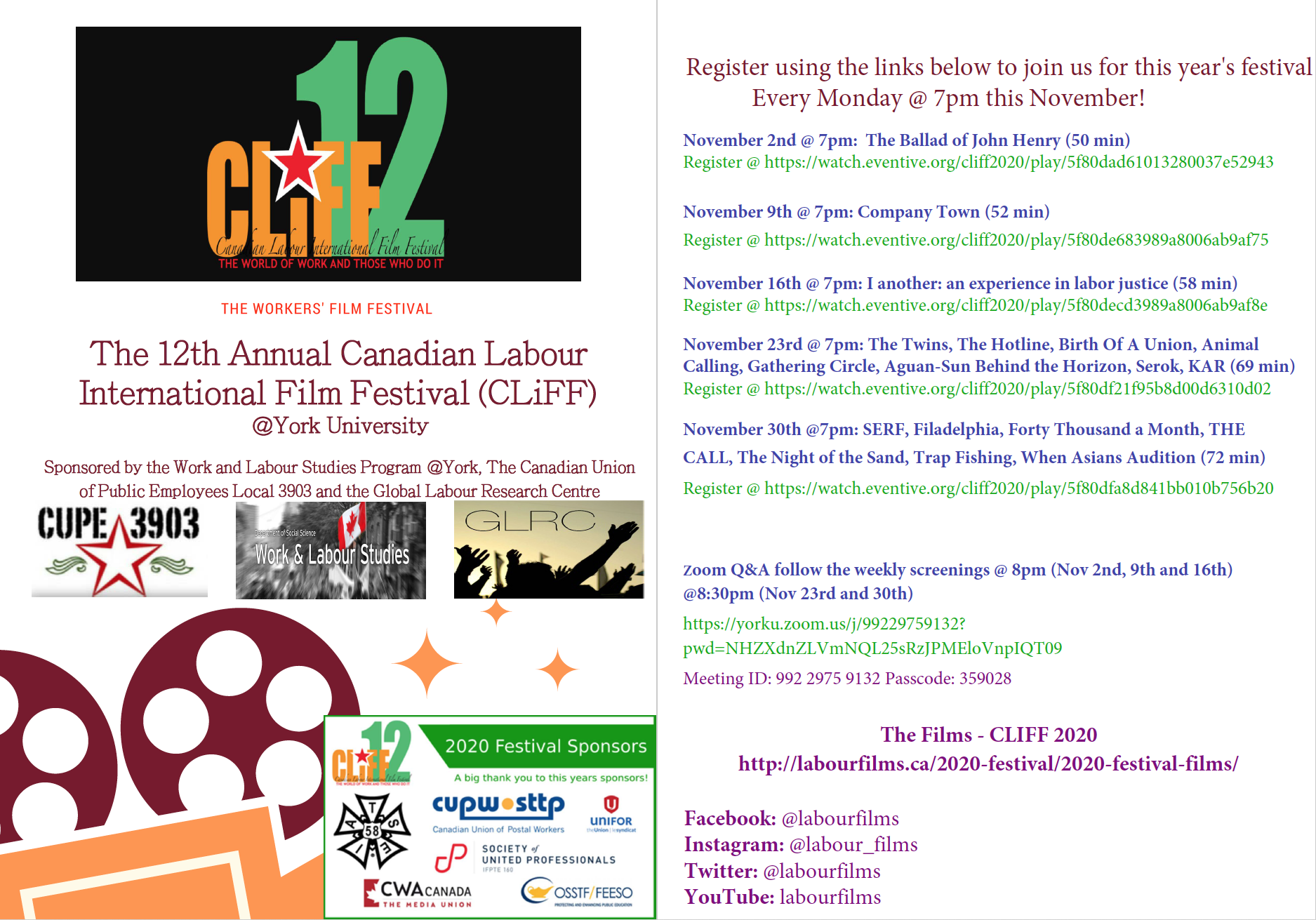 Canadian Labour International Film Festival 2020 - Every Monday in November. Check it out!