Work and Labour Studies Trek-to-Ottawa, 06-08 March 2020 slideshow video
Work and Labour Studies (WKLS) students took part in the inaugural Trek-to-Ottawa, which included meetings and workshops with trade union and community-based researchers, a labour history walking tour, stops at the Parliament of Canada and the Supreme Court of Canada, and celebrations as part of International Women's Day. Click on the image below for a short slideshow video (1:18 mins, 8.7 MB, upbeat music, no voiceovers). Note: This trip occurred before Health Canada recommended physical/social distancing.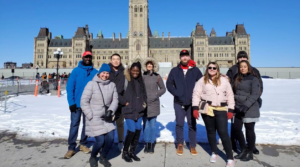 The Work & Labour Studies Students Association
All Work and Labour Studies Students are encouraged to become involved with the Work and Labour Studies Student Association (WLSSA). The WLSSA organizes social justice- and career-related events for program majors, including guest speakers, career forums, field trips and social events. The WLSSA is also actively involved in developing and distributing educational materials about workers' rights designed especially for high school and university students. WLSSA members also advise the Program Coordinator about student interests and needs. Each academic year the WLSSA must apply to the York Federation of Students to be registered as a club. To find out more, or to join the WLSSA, e-mail them at wlssa@yorku.ca
WKLS Inaugural Undergraduate Conference 2019
WKLS Twitter Photo Gallery
Click on images for the full-size slideshow.